How a team of two UX designers took a floundering software and turned it into a huge money maker.
Direct Capital (a division of CIT Bank) is a B2B lending company that provides equipment, new location, and franchise financing to small businesses and franchise corporations. 
LendEdge is the name of their lending software, allowing business owners and franchisees to apply for financing. 
I worked as a User Experience Designer on this project alongside the User Experience Manager, a Business Analyst, and the development team. I was responsible for customer research, wireframes, styling, prototypes, and defining the specifications for implementation.
LendEdge was not doing well. The average bounce rate was 64.85%* – the majority of potential customers spent less than two minutes viewing the site. Worse, the submission and form completion rates were holding steady considering site views, but the site was outdated and badly needed an overhaul.
*Source: Provided by Direct Capital analytics, 2015
Decrease bounce rate
Educate consumers about applying for equipment and franchise loans
Make platform easy to use and enable quicker follow-through
Complete deals and fund customers' bank accounts faster
Maintain brand identity while pushing the brand forward
Bring website and online forms up to date
In order to get financing for a franchise or a business, consumers need to provide quite a bit of data that must be secure.
Many owners are not tech savvy and do not know much about computers
Franchisees have special requirements
Process was complicated and not easily understood by consumers
First, we needed to know what franchisees loved or hated about the current LendEdge.
Asked the sales floor what complaints they heard most often
Conducted usability tests to determine what problems were most prevalent
Examined heat maps and click data to determine where people left
Re-evaluated responsivity of current site
We started off bringing in a selection of business owners recommended by our sales floor. We instructed them to test the site in a closed room with a moderator. However, it was difficult to find business owners willing to participate locally and usually only the most tech-knowledgable owners would agree to test. Less tech-savvy owners tended to shy away from testing and would get extremely nervous.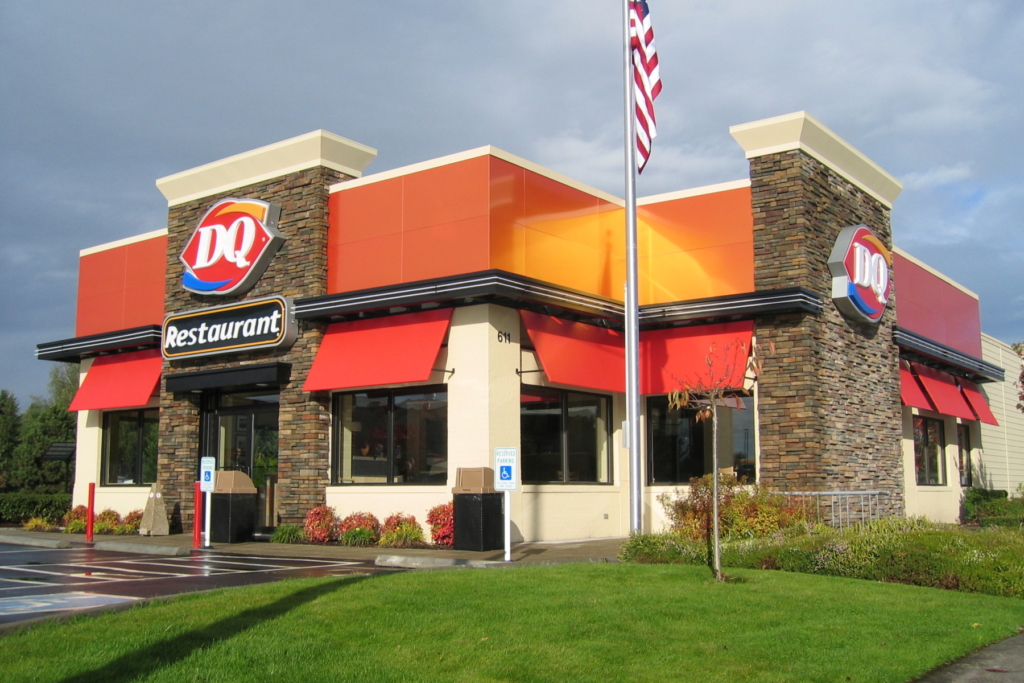 We first created a series of workflows that allowed us to view the structure of the software. We looked closely at the entry and exit points, and using the testing that we had secured, tried to eliminate pain points and barriers to consumers completing their application for financing. 
Throughout the project, we kept our minds on the KPIs and stakeholder deliverables. We updated the look and feel not only of the overall site (the main entry point for applicants), but we considered various breakpoints for the software's media sizes in order to streamline the application process on all platforms, mobile and desktop.
"Quick Estimate" feature – helps users determine their potential monthly payments quickly and easily.
Dashboard – allowing users to get a high-level overview of application status and recently submitted apps, as well as transaction history.
Franchise User Portal – meeting specific needs of franchisees
DocuSign functionality – enabling approved customers to sign documents and submit them online.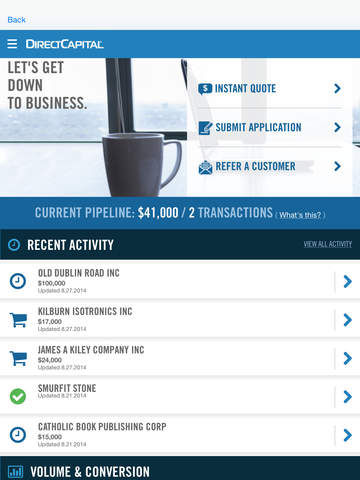 The average bounce rate for the 4 months before the launch was 64.85%. We saw a reduction in bounce rates, and an increase in conversion rates overall. 
After launch we discovered just how successful we were. The software was so successful and garnered so much attention for the company, Direct Capital was acquired by CIT Bank. 
Where previously, the software hadn't been used much, CIT's stated reason for acquiring Direct Capital was, "Through its customer-centric approach and unique value-added technology platform, Direct Capital has established itself as a leader in providing small and mid-sized businesses fast, flexible and affordable financing," said Nelson J. Chai, President of CIT Group Inc., Chairman and CEO of CIT Bank. "Direct Capital's proprietary online lending platform, LendEdge, will complement our existing small business and mid-market customer offerings as we continue to provide financing to these important sectors of the U.S. economy." 
To top it off, Apple Computer decided to give Direct Capital financing for business customers, taking it away from GE Capital. 
*Source: All data provided byfDirect Capital analytics, 2015
In the four months post-launch of the new LendEdge, we saw a 13.8% decline in the bounce rate.
Because we increased the amount of secure customer data captured, we could approve, and thus fund, customers faster. That meant that the ratio of form submissions to completed deals more than doubled quarter-over-quarter after launch.
The funded volume from the site increased by 109% quarter-over-quarter after launch.